See it in action!
Request a demo and
start a trial today.
The idea of converting paper forms to mobile forms for smartphones and tablets is straight-forward. Having the ability to digitally collect and share data in real time makes good business sense. But what capabilities should an advanced wireless forms solution offer?
ProntoForms, a global leader in automated mobile workflows, makes it easy for employees to collect and analyze field data with their mobile devices, and automatically share the results with colleagues, back-office systems, and cloud services.  
Key benefits of using advanced wireless forms from ProntoForms: 
Connected Data Sources: Quickly access the latest customer information, schedules, updates, parts numbers, and pricing right on the device – saving multiple calls or trips back to the office
Rich Media: Use your phone or tablet to capture signatures, bar/QR codes, and photos, then sketch or draw directly on top of it, and seamlessly integrate it into a form
Custom Form Building: Create customized forms that can collect any type of field data, from safety checklists to time-sheets. Incorporate your company logo and colors directly in your form, enhancing your organization's professional image
Time and GPS Stamps: Automatically record the time and GPS location of a completed wireless form to improve field worker visibility and accountability. Documents and logs can be sent to customers and regulators as proof-of-service 
Contact ProntoForms for a demo and a free trial. Start mobilizing your business processes today.
THE LEADER IN MOBILE FORMS
Mobile app features made for efficiency
Create forms and dispatch for greater efficiency
Recreate forms for mobile with an intuitive form builder, and dispatch populated forms to workers in the field to avoid unnecessary trips to the office and repeated data entry.
Add photos, inside your forms
Take or insert photos and sketch on top of them to provide visuals of site activities and better report on field issues.
Work offline
No matter where you're working, fill forms with or without connectivity; they'll auto-send once the network is restored.
Capture signatures and barcodes
Collect authorization signatures on the device using the touch screen, and expedite data collection by scanning barcodes in the form to populate from a data list.
Add GPS and time stamps
Quickly confirm the location of job sites, customer visits, time of arrival, and work performed for visibility when auditing.
Connect the office to the field with two-way data flows
Maximize your productivity with pre-built dashboards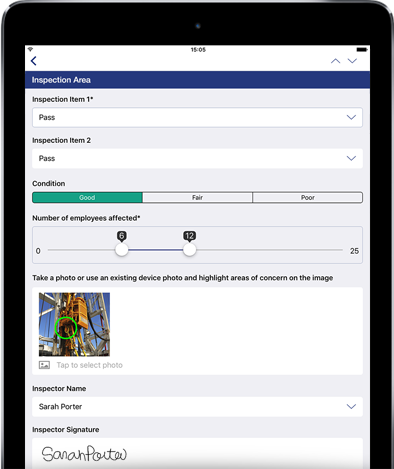 Transform your Business with Advanced Wireless Forms from ProntoForms