Blank Home Inspection Forms
See it in action!
Request a demo and
start a trial today.
In real estate, a home inspection can make or break the deal. So you want to be sure it's done right and done on time. Home inspectors used to be sent into the field with stacks of blank home inspection forms. They had to fill them out manually, return to the office, make numerous copies and fax the information while the buyers and sellers waited. Luckily things have changed. 
With ProntoForms, inspections can be done on a mobile device and submitted instantly, in real time to all parties involved. Now, ProntoForms gives you much more than just digital versions of paper home inspection forms. ProntoForms helps improve field service productivity by allowing inspectors to focus on the tasks at hand, not on the paperwork. Increase the number of inspections completed in a day, improve data quality, save hours every week in paperwork, and increase customer satisfaction. 
What can inspectors do with ProntoForms? 
Efficiently collect accurate inspection data: The user-friendly app – designed specifically for field users – streamlines and speeds up data collection processes and prevents entry errors common on paper forms.
Data-rich inspection forms: Take photos at inspection sites and draw directly on images to highlight problem areas; capture GPS & time stamps, signatures, and audio, then embed this rich media directly into the mobile inspection forms. 
Complete inspection forms offline: No network connection? No problem! Mobile forms can be filled out offline and are automatically sent once connectivity is restored.
Contact us today to start a free trial. We'll show you how ProntoForms can help your real estate team leverage mobility.
THE LEADER IN MOBILE FORMS
Mobile app features made for efficiency
Create forms and dispatch for greater efficiency
Recreate forms for mobile with an intuitive form builder, and dispatch populated forms to workers in the field to avoid unnecessary trips to the office and repeated data entry.
Add photos, inside your forms
Take or insert photos and sketch on top of them to provide visuals of site activities and better report on field issues.
Work offline
No matter where you're working, fill forms with or without connectivity; they'll auto-send once the network is restored.
Capture signatures and barcodes
Collect authorization signatures on the device using the touch screen, and expedite data collection by scanning barcodes in the form to populate from a data list.
Add GPS and time stamps
Quickly confirm the location of job sites, customer visits, time of arrival, and work performed for visibility when auditing.
Connect the office to the field with two-way data flows
Maximize your productivity with pre-built dashboards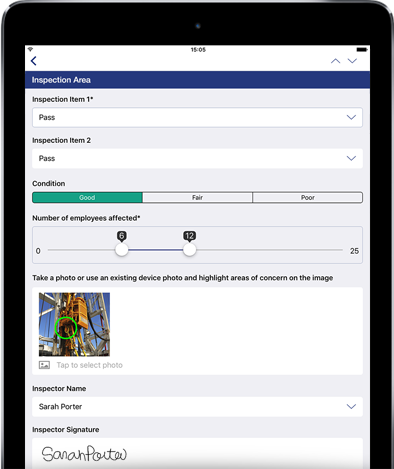 Stop Carrying Blank Home Inspection Forms – Go Mobile With ProntoForms