See it in action!
Request a demo and
start a trial today.
Whether you're an electrician, plumber, contractor, or HVAC technician, you might do 5 or 6 calls a day. You start off with stacks of blank work order forms and odds are, by the end of the day, things are a mess. Paper work order forms are prone to being misplaced, damaged, incorrectly filled out and submitted late. These issues cause delays, which cost your business money.
ProntoForms is an award-winning mobile forms solution used by thousands of businesses to collect and analyze field data using phones and tablets. Users can easily create and dispatch unlimited custom mobile forms, capture data, and submit complete and accurate forms from anywhere in real time. 
How can ProntoForms help you improve productivity, service quality, and compliance with mobile forms? 
Dispatch and route job data: Dispatch customer name, location, job, and part information; route work order results for immediate processing
Context-rich work orders: Integrate rich data from the field directly into pre-filled forms: photos & sketches, tables, GPS/time stamps, signatures and more
Track and measure performance: Monitor field operations and maintenance trends with reports and dashboards to gain better business insights and optimize performance
Transform work orders, invoices, checklists, and time-sheets with a mobile solution from ProntoForms. Improve speed and quality, eliminate repeat visits, and reduce costs.
Contact us for more information. Start a free trail or request a demo today!
THE LEADER IN MOBILE FORMS
Mobile app features made for efficiency
Create forms and dispatch for greater efficiency
Recreate forms for mobile with an intuitive form builder, and dispatch populated forms to workers in the field to avoid unnecessary trips to the office and repeated data entry.
Add photos, inside your forms
Take or insert photos and sketch on top of them to provide visuals of site activities and better report on field issues.
Work offline
No matter where you're working, fill forms with or without connectivity; they'll auto-send once the network is restored.
Capture signatures and barcodes
Collect authorization signatures on the device using the touch screen, and expedite data collection by scanning barcodes in the form to populate from a data list.
Add GPS and time stamps
Quickly confirm the location of job sites, customer visits, time of arrival, and work performed for visibility when auditing.
Connect the office to the field with two-way data flows
Maximize your productivity with pre-built dashboards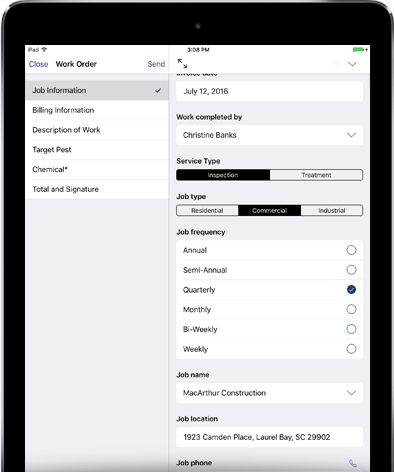 Stop Managing Stacks of Blank Work Order Forms: Go Mobile With ProntoForms