See it in action!
Request a demo and
start a trial today.
To run your business smoothly and increase efficiency, you need to ensure that your teams are equipped with the tools they need to succeed. Shifting from paper to a cloud-based form builder, helps improve productivity by eliminating redundant data entry tasks, minimizing errors, and making it easier for employees to complete their work.
ProntoForms is the global leader in automating mobile workflows. Our award-winning mobile solution enables remote workers to collect data on mobile devices, easily access company data from the field, and quickly share results with colleagues, cloud services, and back-office systems. 
Three key ways ProntoForms can help your organization: 
Improved Productivity – Mobile forms help save time in your day-to-day operations, enabling your teams to accomplish more and operate more efficiently 
Improved Integration – Connect and route data across cloud services, back office systems, and people; configure workflows to automatically trigger follow-up maintenance work orders when a piece of equipment needs to be repaired
Improved Visibility – Analytics dashboards offer visibility into your operational performance; can help you identify root causes to bottlenecks; and can easily be shared with internal and external stakeholders 
Contact us today to request a free demo and learn how companies of all sizes are leveraging ProntoForms to enable automated workflows and drive a lucrative ROI. 
THE LEADER IN MOBILE FORMS
Mobile app features made for efficiency
Create forms and dispatch for greater efficiency
Recreate forms for mobile with an intuitive form builder, and dispatch populated forms to workers in the field to avoid unnecessary trips to the office and repeated data entry.
Add photos, inside your forms
Take or insert photos and sketch on top of them to provide visuals of site activities and better report on field issues.
Work offline
No matter where you're working, fill forms with or without connectivity; they'll auto-send once the network is restored.
Capture signatures and barcodes
Collect authorization signatures on the device using the touch screen, and expedite data collection by scanning barcodes in the form to populate from a data list.
Add GPS and time stamps
Quickly confirm the location of job sites, customer visits, time of arrival, and work performed for visibility when auditing.
Connect the office to the field with two-way data flows
Maximize your productivity with pre-built dashboards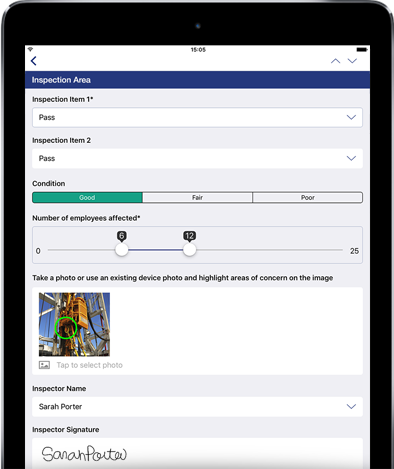 Make the Shift From Paper To Mobile Cloud Form Builder – With ProntoForms