See it in action!
Request a demo and
start a trial today.
Before field workers even begin filling out forms, a manager needs to spend valuable time designing and printing paper forms in the office, distributing them, and hoping no one is accidentally using an old version of the form. 
ProntoForms gives you access to a library of construction work order formats - and customizing new and existing forms is simple and intuitive. Seamlessly connect your field teams to your organization through an app on their mobile devices. From there, completing and submitting mobile forms from a tablet or smartphone is easy. ProntoForms features include:
Forms Library: Use or customize existing construction work order formats to suit your business needs.
Dispatching: Dispatch up-to-date forms to field users, populated with important job information  
Signature & barcode capture: Collect signatures with just a finger using a device's touch screen. Use the device's camera to scan barcodes and make asset management workflows more efficient
Photo & sketch: Capture photos in the field and sketch on top of them to highlight problem areas during on-site inspections and installations
Offline form functionality: Fill out and submit forms with or without connectivity on site. Forms auto-send once network is restored
GPS & time stamps: Automatically record workers' locations during inspections and customer visits, as well as arrival & departure times from work sites for auditing purposes
Deploy your solution quickly and easily with minimal training required. 
Contact us today to request a demo or free trial. 
THE LEADER IN MOBILE FORMS
Mobile app features made for efficiency
Create forms and dispatch for greater efficiency
Recreate forms for mobile with an intuitive form builder, and dispatch populated forms to workers in the field to avoid unnecessary trips to the office and repeated data entry.
Add photos, inside your forms
Take or insert photos and sketch on top of them to provide visuals of site activities and better report on field issues.
Work offline
No matter where you're working, fill forms with or without connectivity; they'll auto-send once the network is restored.
Capture signatures and barcodes
Collect authorization signatures on the device using the touch screen, and expedite data collection by scanning barcodes in the form to populate from a data list.
Add GPS and time stamps
Quickly confirm the location of job sites, customer visits, time of arrival, and work performed for visibility when auditing.
Connect the office to the field with two-way data flows
Maximize your productivity with pre-built dashboards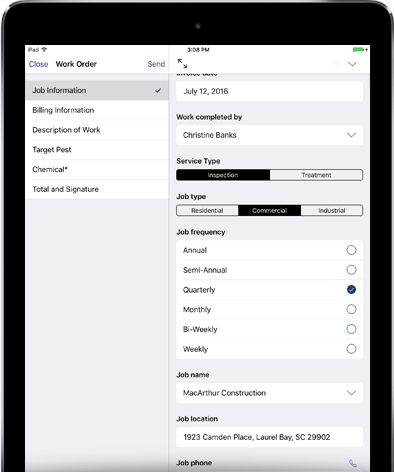 Get Ready-Made and Customizable Work Order Formats for Construction on Any Mobile Device with ProntoForms