See it in action!
Request a demo and
start a trial today.
More and more businesses are choosing custom mobile form apps instead of traditional paper-based systems. With ProntoForms, building your own custom mobile forms is easy.
Our custom form builder doesn't require any coding or training to use. We offer intuitive controls such as drag-and-drop form creation, and app-native form completion, so every part of the process is familiar even to first-time users.
Here just a few of the reasons to choose ProntoForms:
Improve Efficiency: Using custom online forms is incredibly efficient. You'll be able to instantaneously dispatch forms from the office to the field – and the field team can return them from there. The data will automatically be inserted into your archive and formatted into a report to be sent to selected supervisors or stakeholders.

Customizable Templates: The only thing more convenient than creating custom forms is choosing from the hundreds of customizable templates we offer. 

 Resource-Friendly: Paper forms can add up to thousands upon thousands of pages per year. Storage, distribution and manual data entry add further costs. These expenses are unnecessary for both your business and the environment – instead, choose ProntoForms and create custom forms online.   
Contact us today for more information, or for a free month-long trial of our custom web forms app.
THE LEADER IN MOBILE FORMS
Mobile app features made for efficiency
Create forms and dispatch for greater efficiency
Recreate forms for mobile with an intuitive form builder, and dispatch populated forms to workers in the field to avoid unnecessary trips to the office and repeated data entry.
Add photos, inside your forms
Take or insert photos and sketch on top of them to provide visuals of site activities and better report on field issues.
Work offline
No matter where you're working, fill forms with or without connectivity; they'll auto-send once the network is restored.
Capture signatures and barcodes
Collect authorization signatures on the device using the touch screen, and expedite data collection by scanning barcodes in the form to populate from a data list.
Add GPS and time stamps
Quickly confirm the location of job sites, customer visits, time of arrival, and work performed for visibility when auditing.
Connect the office to the field with two-way data flows
Maximize your productivity with pre-built dashboards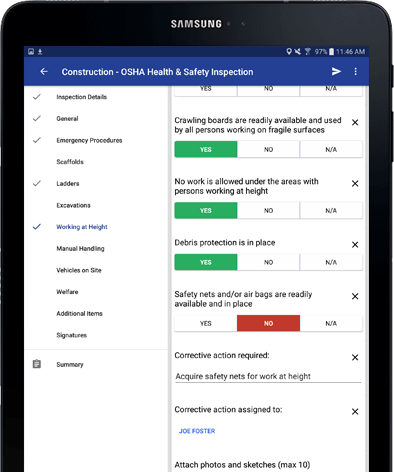 Create Custom Mobile Forms with ProntoForms - the Global Leader in Mobile Forms