See it in action!
Request a demo and
start a trial today.
Many of today's paper-based business tasks can be performed much faster by taking pictures, scanning barcodes, adding date/time stamps, and recording signatures to confirm authenticity. 
Imagine being able to do all this, while also being able to electronically share important information with colleagues and automatically store the data on one device. Now you can. 
ProntoForms for iPad combines the best of both worlds: two user- friendly, best-in-class products that complement one another perfectly to improve business processes. 
The ProntoForms mobile app for iOS (iPad, iPhone, iPod Touch) offers these key features and more: 
Works offline. ProntoForms works on your iPad (or any mobile device) from anywhere – even offline. Data is automatically saved and your work is uploaded and filed as soon as you are back online 
Push Notifications. Know immediately when a dispatch has been sent 
3D Touch Peek and Pop. 3D Touch allows users to preview files without actually opening them. Press lightly on the ProntoForms icon to preview a destination – no need to click between files to get the information you want 
Image Annotation. ProntoForms features several drawing tools so you can choose the one that best suits your needs. 
ProntoForms has both standard and custom forms suitable for all industries – and all available on iPad and iPhone. Contact us today to get started.
THE LEADER IN MOBILE FORMS
Mobile app features made for efficiency
Create forms and dispatch for greater efficiency
Recreate forms for mobile with an intuitive form builder, and dispatch populated forms to workers in the field to avoid unnecessary trips to the office and repeated data entry.
Add photos, inside your forms
Take or insert photos and sketch on top of them to provide visuals of site activities and better report on field issues.
Work offline
No matter where you're working, fill forms with or without connectivity; they'll auto-send once the network is restored.
Capture signatures and barcodes
Collect authorization signatures on the device using the touch screen, and expedite data collection by scanning barcodes in the form to populate from a data list.
Add GPS and time stamps
Quickly confirm the location of job sites, customer visits, time of arrival, and work performed for visibility when auditing.
Connect the office to the field with two-way data flows
Maximize your productivity with pre-built dashboards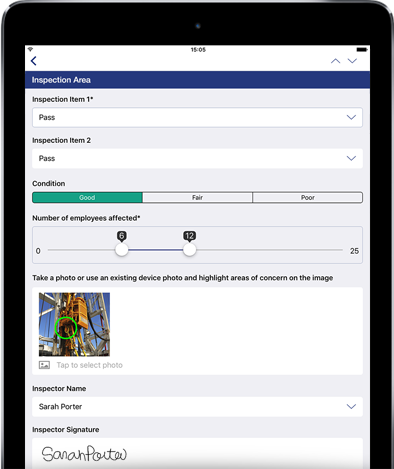 ProntoForms For iPad – The Best Mobile Forms Solution For Your Business