See it in action!
Request a demo and
start a trial today.
Mobile technology is rapidly evolving, and you want to be able to try before you buy. The solution you choose will change the way your people do their jobs, and you recognize the importance of taking advantage of technology in the field. Those who don't quickly fall behind due to lack of productivity and increased costs.
That's why you want a free mobile form builder - so you can test the solution to ensure it's the right one for you.
The ProntoForms app builder is intuitive, and you can use it to convert your paper forms so they can be filled out using a powerful mobile app solution on smart phones and tablets – providing your field workers with the tools and real-time information they need to perform their tasks efficiently and accurately.
Key features of the ProntoForms free mobile form trial will give you access to:
Desktop Form Builder – build custom forms, or modify existing forms, with an intuitive drag and drop interface 
Dispatching – dispatch forms to field users, eliminating trips to the office
Signature, Photo & Sketch capture – collect signatures on a device's touch screen, and scan barcodes with its camera; take pictures in the field and draw or sketch directly on top of them to provide visibility into on-site processes
GPS & time stamps – Automatically record the location of field technicians during operations. Capture time of arrival and departure from work sites
Offline form functionality – Complete and submit forms without access to wifi or data. Forms will be automatically sent once network is restored
ProntoForms has the solution you need to go beyond a simple mobile form builder.
Contact us today to start your free trial or request a demo. 
THE LEADER IN MOBILE FORMS
Mobile app features made for efficiency
Create forms and dispatch for greater efficiency
Recreate forms for mobile with an intuitive form builder, and dispatch populated forms to workers in the field to avoid unnecessary trips to the office and repeated data entry.
Add photos, inside your forms
Take or insert photos and sketch on top of them to provide visuals of site activities and better report on field issues.
Work offline
No matter where you're working, fill forms with or without connectivity; they'll auto-send once the network is restored.
Capture signatures and barcodes
Collect authorization signatures on the device using the touch screen, and expedite data collection by scanning barcodes in the form to populate from a data list.
Add GPS and time stamps
Quickly confirm the location of job sites, customer visits, time of arrival, and work performed for visibility when auditing.
Connect the office to the field with two-way data flows
Maximize your productivity with pre-built dashboards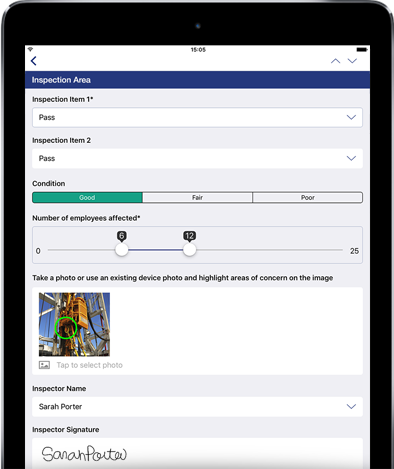 Request a Free ProntoForms Demo to Test Our Mobile Form Builder