See it in action!
Request a demo and
start a trial today.
Good HVAC technicians are in high demand. With consistent industry growth and increasingly complex heating and cooling systems being used, you want your service technicians to have all the tools they need to get the job done right. Manually filling out and managing multiple paper forms at each job site is time consuming and cumbersome. Isn't it time you eliminate paperwork in the field? You can with ProntoForms!
ProntoForms lets you connect your field technicians to the home office, dispatch work orders to the field, provide up-to-date information to workers in the field, and automatically share field data with people, back-office systems, and cloud services.
The ProntoForms forms library offers a wide range of commonly used HVAC business forms, including:
Service Invoice: Calculate accurate invoices on your mobile device in real time and send the invoice to the customer while still on the job site
New Order Form: Capture information in the field, including photos and sketches, and submit New Service Orders to the office immediately, ensuring new orders are processed quickly
Large & Small Building Checklists: Comprehensive service checklists can be customized for both large and small commercial facilities, so you can build the form to meet the precise needs of your customers
The ProntoForms forms library offers a number of professional HVAC forms, including HVAC Equipment Delivery Requests, Mileage Trackers, Clock In or Out/Timestamp Forms, and many more.
Contact us to learn how you can leverage mobility to improve your field service productivity. Request a demo and start your free trial today! 
THE LEADER IN MOBILE FORMS
Mobile app features made for efficiency
Create forms and dispatch for greater efficiency
Recreate forms for mobile with an intuitive form builder, and dispatch populated forms to workers in the field to avoid unnecessary trips to the office and repeated data entry.
Add photos, inside your forms
Take or insert photos and sketch on top of them to provide visuals of site activities and better report on field issues.
Work offline
No matter where you're working, fill forms with or without connectivity; they'll auto-send once the network is restored.
Capture signatures and barcodes
Collect authorization signatures on the device using the touch screen, and expedite data collection by scanning barcodes in the form to populate from a data list.
Add GPS and time stamps
Quickly confirm the location of job sites, customer visits, time of arrival, and work performed for visibility when auditing.
Connect the office to the field with two-way data flows
Maximize your productivity with pre-built dashboards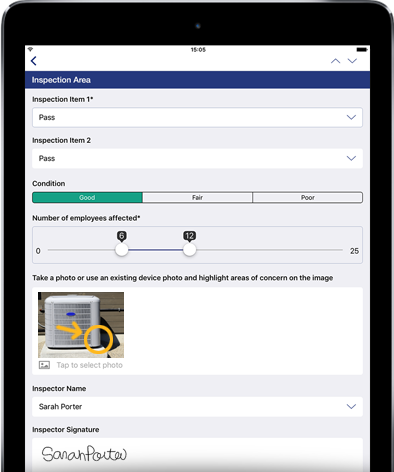 Use Your HVAC Business Forms on Mobile Devices – With ProntoForms