See it in action!
Request a demo and
start a trial today.
Not long ago, when HVAC technicians were sent to job sites to inspect or repair a system, they were handed an HVAC inspection report form – on paper. After completing the job in the field, the techs had to return to the main office with their completed work orders, time sheets, and safety inspections. Managing all of the paper was cumbersome and manually completing the forms was time-consuming. Forms were frequently incomplete, damaged, lost or illegible, resulting in lost time and money. Fortunately, things have changed.
The ProntoForms Mobile Solutions platform offers service technicians and installation & maintenance professionals much more than digital versions of paper-based inspection forms, estimates and work orders. The user-friendly interface – designed specifically for field workers – automatically streamlines the data collection process and prevents data entry errors, ensuring the captured data is accurate. ProntoForms mobile technology enables you to:
Efficiently collect accurate inspection and audit data with time-saving data capture capabilities
Capture photos on site and seamlessly integrate them into your mobile work order and inspection forms
Ensure regular inspections with calendar integration
Create a preventative maintenance program to address problems before they appear, and, in turn, improve your customer satisfaction
Instantly and automatically submit forms to your back-office system to provide an auditable record of completed inspections
Improve field productivity, service quality, and customer satisfaction.
Contact ProntoForms to request a demo and start your trial today.
THE LEADER IN MOBILE FORMS
Mobile app features made for efficiency
Create forms and dispatch for greater efficiency
Recreate forms for mobile with an intuitive form builder, and dispatch populated forms to workers in the field to avoid unnecessary trips to the office and repeated data entry.
Add photos, inside your forms
Take or insert photos and sketch on top of them to provide visuals of site activities and better report on field issues.
Work offline
No matter where you're working, fill forms with or without connectivity; they'll auto-send once the network is restored.
Capture signatures and barcodes
Collect authorization signatures on the device using the touch screen, and expedite data collection by scanning barcodes in the form to populate from a data list.
Add GPS and time stamps
Quickly confirm the location of job sites, customer visits, time of arrival, and work performed for visibility when auditing.
Connect the office to the field with two-way data flows
Maximize your productivity with pre-built dashboards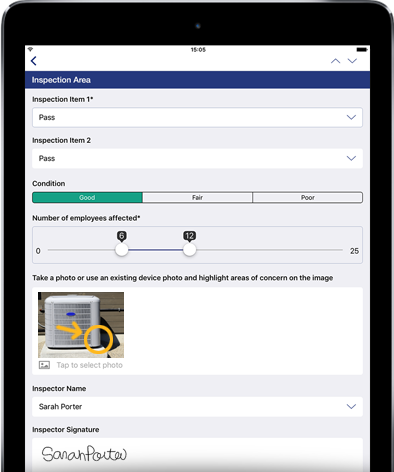 Use Mobile Devices for your HVAC Inspection Report Forms