See it in action!
Request a demo and
start a trial today.
Skilled HVAC technicians are in demand everywhere: homes, schools, hospitals, office buildings, manufacturing plants, and more. When installing, repairing, or maintaining today's complex systems, your technicians should focus on the job at hand, not on managing stacks of paper work order forms and checklists.
ProntoForms replaces costly, inefficient, and error-prone paper form processes with automated mobile workflows. Dispatched work orders are instantly accessible to field workers on their tablets and smartphones. With digital forms, you can automatically connect your teams to data in the back-office, enabling faster and more accurate data reporting.
Benefits of ProntoForms for HVAC work order forms:
Capture rich data: Take photos of job sites and equipment and annotate directly on top of images to highlight problem areas; capture audio recordings of compressors and motors to gauge their condition; and easily embed all data directly into the form
Real-time form dispatch: Dispatch work orders directly to mobile devices and provide your field technicians with always-up-to-date information. No need to drive back to the office just to get the latest Parts- or Price Lists
Work offline: Technicians can complete mobile inspection and work order forms without network connectivity. Forms are auto-sent once connectivity is restored
Accept payments onsite: Implement rapid, accurate invoicing and payment collection with on-device credit card processing
ProntoForms eliminates manual data entry and end-of-day report-building. Contact us today to learn how you can leverage mobility for your HVAC Business.
Start a free trial or request a demo – we're here to help!
THE LEADER IN MOBILE FORMS
Mobile app features made for efficiency
Create forms and dispatch for greater efficiency
Recreate forms for mobile with an intuitive form builder, and dispatch populated forms to workers in the field to avoid unnecessary trips to the office and repeated data entry.
Add photos, inside your forms
Take or insert photos and sketch on top of them to provide visuals of site activities and better report on field issues.
Work offline
No matter where you're working, fill forms with or without connectivity; they'll auto-send once the network is restored.
Capture signatures and barcodes
Collect authorization signatures on the device using the touch screen, and expedite data collection by scanning barcodes in the form to populate from a data list.
Add GPS and time stamps
Quickly confirm the location of job sites, customer visits, time of arrival, and work performed for visibility when auditing.
Connect the office to the field with two-way data flows
Maximize your productivity with pre-built dashboards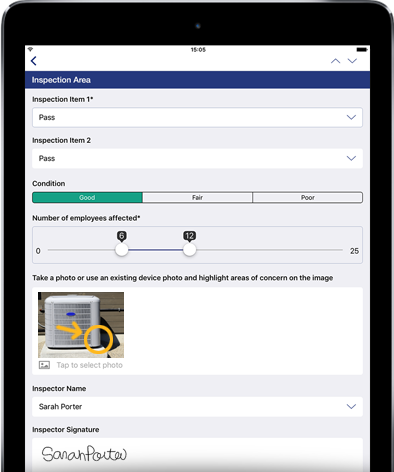 Use HVAC Work Order Forms on Phones and Tablets with ProntoForms