See it in action!
Request a demo and
start a trial today.
Heating, ventilation, and air conditioning - the technology of indoor environmental comfort is essential to our day-to-day lives. That means HVAC companies are often in high demand.
To succeed in the industry, you need to maximize efficiency and productivity. ProntoForms can help you do just that. With hundreds of customizable templates, such as the HVAC work order template, we can help you save time, money, and effort.
Here are three reasons to choose ProntoForms:
Customizable Templates: Access over 220 customizable form templates, including HVAC work order templates, HVAC equipment delivery requests, mileage trackers, clock in/out forms, and more. These forms have an easy-to-use interface that will feel familiar to even first-time users. It's also quick and easy to create your own form with our intuitive form builder. 
Capture Rich Data: Harness the technology that's already at your fingertips. This offers incredible opportunities for HVAC technicians. Take photos of faulty machinery, edit the photo to indicate areas of concern, record audio of machinery, collect signatures, and much more – all with your mobile device.
Optimize Your Time: Increase productivity while lowering labor and resource costs. Instantaneously dispatch forms to the field where technicians can send them back with the tap of a finger. This can save you hours of labor each day, as well as decimate your company's printing costs.
Contact us today for more information, or to start your free month-long trial today!
THE LEADER IN MOBILE FORMS
Mobile app features made for efficiency
Create forms and dispatch for greater efficiency
Recreate forms for mobile with an intuitive form builder, and dispatch populated forms to workers in the field to avoid unnecessary trips to the office and repeated data entry.
Add photos, inside your forms
Take or insert photos and sketch on top of them to provide visuals of site activities and better report on field issues.
Work offline
No matter where you're working, fill forms with or without connectivity; they'll auto-send once the network is restored.
Capture signatures and barcodes
Collect authorization signatures on the device using the touch screen, and expedite data collection by scanning barcodes in the form to populate from a data list.
Add GPS and time stamps
Quickly confirm the location of job sites, customer visits, time of arrival, and work performed for visibility when auditing.
Connect the office to the field with two-way data flows
Maximize your productivity with pre-built dashboards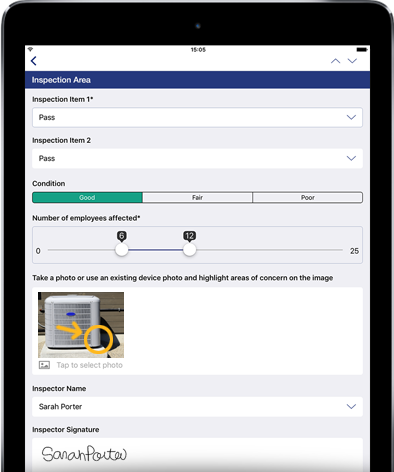 ProntoForms - A Mobile Forms App with Powerful HVAC Applications