See it in action!
Request a demo and
start a trial today.
Professional landscapers know that maintaining accurate records and work orders are essential for a successful business. Field workers need updated information and easily accessible forms that can be customized to specific jobs and customers without having to manage piles of paper on the go.
ProntoForms provides your remote workers with the digital tools and up-to-the minute information they need to perform their tasks accurately and efficiently. Dispatch work orders to the field, and automatically share field data with office systems, cloud services, and people.
ProntoForms offers a number of standard and custom landscape business forms, including:
Dimensions Calculator – This tool allows you to log up to 5 areas, and will calculate the total size of the areas that you have measured
Project Quotation – Our comprehensive landscape quotation form collects all of the basic job specifications and provides cost estimates to the customer Excavation
Permit Request – Enables you to log incoming requests for excavation permits, along with the details of the proposed excavation. Also lets you add photos of the job site
Other landscaping forms include New Customer Service Questionnaires, Lawn and Garden Maintenance, Simple Job Reports and more.
To learn more about the ways ProntoForms can help mobilize your landscaping business, contact us today for a demo and start your free trial!
THE LEADER IN MOBILE FORMS
Mobile app features made for efficiency
Create forms and dispatch for greater efficiency
Recreate forms for mobile with an intuitive form builder, and dispatch populated forms to workers in the field to avoid unnecessary trips to the office and repeated data entry.
Add photos, inside your forms
Take or insert photos and sketch on top of them to provide visuals of site activities and better report on field issues.
Work offline
No matter where you're working, fill forms with or without connectivity; they'll auto-send once the network is restored.
Capture signatures and barcodes
Collect authorization signatures on the device using the touch screen, and expedite data collection by scanning barcodes in the form to populate from a data list.
Add GPS and time stamps
Quickly confirm the location of job sites, customer visits, time of arrival, and work performed for visibility when auditing.
Connect the office to the field with two-way data flows
Maximize your productivity with pre-built dashboards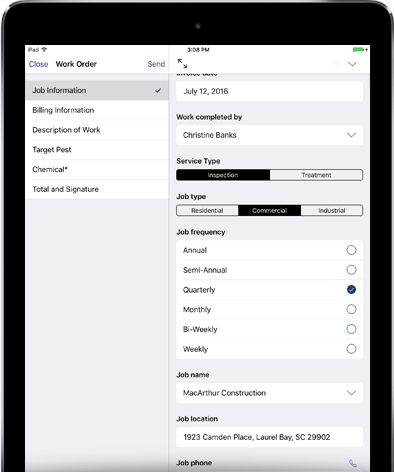 Let ProntoForms Mobilize Your Landscape Business Forms