See it in action!
Request a demo and
start a trial today.
Landscaping professionals understand that maintaining accurate records of work order forms and time-sheets is essential for a successful business, but this is often a cumbersome task for those involved. It's hard to get paper forms returned quickly to the office, and they lead to significant delays as they are often lost, damaged, or hard to read.
ProntoForms, an automated mobile workflow company, makes it easy to build custom landscaping forms for a tablet or smartphone. You can build your own forms, or use any of the many pre-built forms from the ProntoForms Library. You can even add your own logo.
ProntoForms offers many common landscaping forms, including:
Service Call Record: Quickly record the tasks that field workers performed during a service call; simple check-boxes for general tasks, and more complex forms for lists of materials used etc.
New Customer Service Questionnaire: Gather information on new landscaping clients using smart forms. Conditional logic can add follow-up questions on the fly, making it easy to capture even the most complex requirements in a single form
Simple Job Report: For simple landscaping jobs such as lawn care and garden upkeep, check off jobs as they are completed and automatically send a report to both the office and the customer directly from the job site
Lawn Maintenance Invoice: Immediately provide a legible, professional landscaping invoice to your customers while you are still on-site
ProntoForms library of landscaping forms also includes Dimensions Calculators, Project Quotes, Excavation Permits, and many more.
Contact us today for a free demo to see what ProntoForms can do for your landscaping business.
THE LEADER IN MOBILE FORMS
Mobile app features made for efficiency
Create forms and dispatch for greater efficiency
Recreate forms for mobile with an intuitive form builder, and dispatch populated forms to workers in the field to avoid unnecessary trips to the office and repeated data entry.
Add photos, inside your forms
Take or insert photos and sketch on top of them to provide visuals of site activities and better report on field issues.
Work offline
No matter where you're working, fill forms with or without connectivity; they'll auto-send once the network is restored.
Capture signatures and barcodes
Collect authorization signatures on the device using the touch screen, and expedite data collection by scanning barcodes in the form to populate from a data list.
Add GPS and time stamps
Quickly confirm the location of job sites, customer visits, time of arrival, and work performed for visibility when auditing.
Connect the office to the field with two-way data flows
Maximize your productivity with pre-built dashboards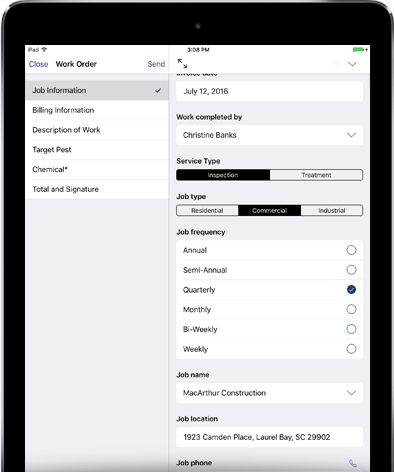 Mobilize Your Landscaping Work Order Forms – With ProntoForms