See it in action!
Request a demo and
start a trial today.
Field workers can spend countless hours filling out maintenance work order forms, creating reports, and capturing signatures on paper forms. If you want to avoid long and costly paperwork delays, you need to provide your employees with better solutions.
ProntoForms lets you connect your field teams to your main office by using mobile devices to complete forms in the field. Completing and submitting mobile forms from a tablet or smartphone is easy. You can easily build custom forms – you can even add your own logo. ProntoForms features include:
Dispatching – Easily dispatch up-to-date maintenance work orders and other forms to field users, avoiding unnecessary trips to the office
Signature & barcode capture – Quickly collect signatures in the field using the touch screen. Effortlessly scan barcodes with a phone or tablet to auto-populate already known information into the forms
Photo & sketch – Capture pictures in the field and sketch on top of them to quickly highlight problem areas when performing on-site maintenance tasks 
Offline form functionality – Fill out and submit forms while onsite – with or without connectivity. Forms are automatically submitted once network is restored
GPS & time stamps – Automatically record GPS location and arrival & departure times when performing maintenance, making it easy to show compliance should you be audited
Quick & easy deployment. No coding required.
Contact us today to see how ProntoForms can transform your business.
THE LEADER IN MOBILE FORMS
Mobile app features made for efficiency
Create forms and dispatch for greater efficiency
Recreate forms for mobile with an intuitive form builder, and dispatch populated forms to workers in the field to avoid unnecessary trips to the office and repeated data entry.
Add photos, inside your forms
Take or insert photos and sketch on top of them to provide visuals of site activities and better report on field issues.
Work offline
No matter where you're working, fill forms with or without connectivity; they'll auto-send once the network is restored.
Capture signatures and barcodes
Collect authorization signatures on the device using the touch screen, and expedite data collection by scanning barcodes in the form to populate from a data list.
Add GPS and time stamps
Quickly confirm the location of job sites, customer visits, time of arrival, and work performed for visibility when auditing.
Connect the office to the field with two-way data flows
Maximize your productivity with pre-built dashboards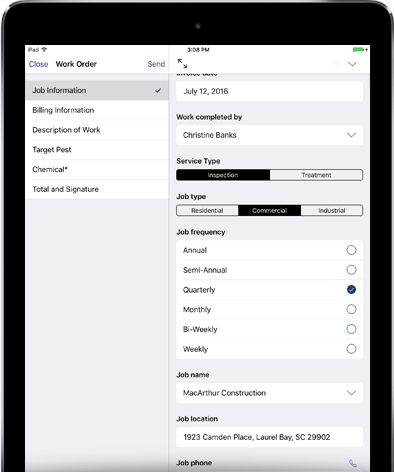 Build your own Maintenance Work Order Forms and submit them as PDFs