See it in action!
Request a demo and
start a trial today.
Most of today's businesses are comfortable with Microsoft technology. It's entrenched in the workplace via Microsoft Office and it's accessed on-the-go via cloud services like OneDrive and SharePoint. But for companies looking to to make a switch to paperless transactions and a mobile form builder, the idea of transitioning to a new platform or service can be daunting.
Fortunately, for businesses that rely heavily on Microsoft systems, the switch to mobile isn't as difficult or time-consuming as you might think – thanks to ProntoForms.
ProntoForms mobile solution offers out-of-the-box connectivity with Office 365, Microsoft OneDrive, Microsoft OneDrive for Business, and SharePoint, empowering you to:
Replace cumbersome paper forms while still connecting data to your preferred Microsoft system
Eliminate the hassles of recording data into spreadsheets and transcribing paper forms into the back-office system
Fill out mobile forms, capture signatures and photos (even sketch on images), process credit card payments, and much more
ProntoForms mobile solutions can take you to a new level of productivity and cost savings – while still enjoying Microsoft systems. It's easy to get started!
Contact us now to request a demo and start your free trial.
THE LEADER IN MOBILE FORMS
Mobile app features made for efficiency
Create forms and dispatch for greater efficiency
Recreate forms for mobile with an intuitive form builder, and dispatch populated forms to workers in the field to avoid unnecessary trips to the office and repeated data entry.
Add photos, inside your forms
Take or insert photos and sketch on top of them to provide visuals of site activities and better report on field issues.
Work offline
No matter where you're working, fill forms with or without connectivity; they'll auto-send once the network is restored.
Capture signatures and barcodes
Collect authorization signatures on the device using the touch screen, and expedite data collection by scanning barcodes in the form to populate from a data list.
Add GPS and time stamps
Quickly confirm the location of job sites, customer visits, time of arrival, and work performed for visibility when auditing.
Connect the office to the field with two-way data flows
Maximize your productivity with pre-built dashboards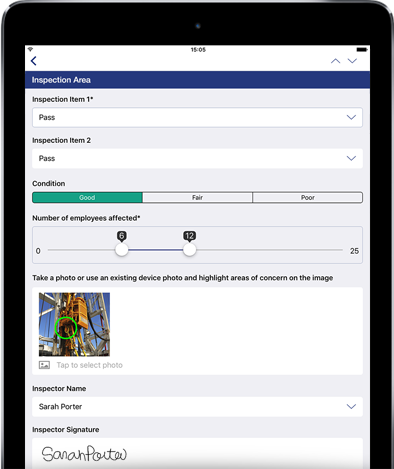 ProntForms for Microsoft – Mobile Form Builder Integration Made Easy