See it in action!
Request a demo and
start a trial today.
In today's digital era, information can be shared at the push of a button, so why are so many businesses still wasting time, money, and resources on paper forms?
ProntoForms mobile data sharing offers an intuitive paperless solution to cut through the delays, harnessing the power of mobility to connect every part your workforce. With the help of smartphones and tablets, workers in the field can collect and share data with customers, key contacts, and backend systems more efficiently and accurately than ever before.
ProntoForms' mobile data sharing gives your business an edge over the competition with key features that include:
Offline Functionality: A mobile solution should work wherever its needed. The ProntoForms app maintains functionality offline, and forms completed on-site will be submitted automatically when an internet connection is reestablished.
Real-time Dispatching: Avoid unneccessary trips to the office by sending pre-filled, prioritized job assignments directly to field users, and enable management to review submissions immediately so jobs can move forward in real-time - not when a form makes it into the office inbox.
Cloud-Based Archiving: Say goodbye to filing cabinets by switching to a digital archive, automatically organized however you need, with as many filing rules as you need. With more than 25 out-of-the-box connections, key stakeholders can securely access data, documents, and reports anytime, anywhere, on any device.
Rich Data: Seamlessly incorporate and sketch on photos, record audio, tag GPS location, and more for complete transparency in the field, with no more attachments being lost or mislabeled.
Are you ready to see how ProntoForms can transform your business?
Contact us today for your demo or free trial.
THE LEADER IN MOBILE FORMS
Mobile app features made for efficiency
Create forms and dispatch for greater efficiency
Recreate forms for mobile with an intuitive form builder, and dispatch populated forms to workers in the field to avoid unnecessary trips to the office and repeated data entry.
Add photos, inside your forms
Take or insert photos and sketch on top of them to provide visuals of site activities and better report on field issues.
Work offline
No matter where you're working, fill forms with or without connectivity; they'll auto-send once the network is restored.
Capture signatures and barcodes
Collect authorization signatures on the device using the touch screen, and expedite data collection by scanning barcodes in the form to populate from a data list.
Add GPS and time stamps
Quickly confirm the location of job sites, customer visits, time of arrival, and work performed for visibility when auditing.
Connect the office to the field with two-way data flows
Maximize your productivity with pre-built dashboards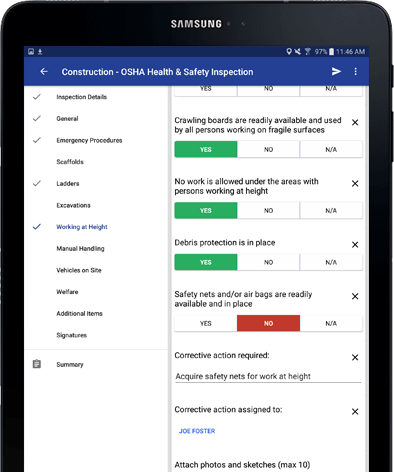 ProntoForms: The Most Efficient in Mobile Data Sharing