See it in action!
Request a demo and
start a trial today.
When investing in a mobile solution, you want to get it up and running as quick as possible, with as little setup as possible. 
With the help of a mobile form template from ProntoForms' form library, your operations will be running better, faster, and smarter than ever with just a few clicks. Going paperless with ProntoForms is as simple as choosing a ready-made mobile form - or a colletion of ready-made forms - that best suits your needs.
Our selection of mobile forms boasts templates from more than 25 industries that can be used as-is, or tailored to suit your business. From inspection forms and safety checklists, to invoices and work orders, we have your mobile form needs covered.
Benefits include:
Rapid Deployment: Form templates from every industry are ready for quick adoption, and are perfect for rolling out a pre-built mobile workflow. They can even be populated with your own back-office data for more efficient, error-free data entry.
Easy Customization: If you need more out of a form or workflow, customization is only a few clicks away. Recreate your own paper forms down to the logo on top, but with the added bonus of built-in back-office data and rich data collection.
Improved Efficiency: With automatic form submission and archiving, and pre-population with back-office data, being able to incorporate a mobile form template into your workflow will save you time and effort so you can focus on what matters - running your business.
Contact us today to get started with for your demo and free trial.
THE LEADER IN MOBILE FORMS
Mobile app features made for efficiency
Create forms and dispatch for greater efficiency
Recreate forms for mobile with an intuitive form builder, and dispatch populated forms to workers in the field to avoid unnecessary trips to the office and repeated data entry.
Add photos, inside your forms
Take or insert photos and sketch on top of them to provide visuals of site activities and better report on field issues.
Work offline
No matter where you're working, fill forms with or without connectivity; they'll auto-send once the network is restored.
Capture signatures and barcodes
Collect authorization signatures on the device using the touch screen, and expedite data collection by scanning barcodes in the form to populate from a data list.
Add GPS and time stamps
Quickly confirm the location of job sites, customer visits, time of arrival, and work performed for visibility when auditing.
Connect the office to the field with two-way data flows
Maximize your productivity with pre-built dashboards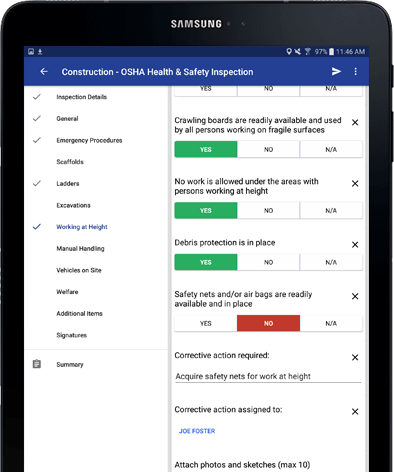 The Fastest Way to Go Mobile