See it in action!
Request a demo and
start a trial today.
Every business deals with forms – from invoices to work orders to inspection forms. In the past, these forms were paper-based, which meant hours of now-unnecessary work retrieving, delivering, filling, returning, filing, and interpreting forms. Add more time when forms had to be retrieved.
That's why so many businesses are choosing ProntoForms, an application for mobile forms.
Choosing our mobile forms app opens countless new doors for data gathering. You'll save money, time, and effort while gathering richer data and creating effortlessly organized archives.
Here are just a few of the advantages of our smart forms app:
Customizable Templates:

 

ProntoForms offers over 220 templates for fillable forms on mobile devices. These are all customizable to best suit your needs. And with our user-friendly interface, it's easy to create your own form from scratch! And no coding required.

Work Offline: Fill out mobile forms on an iPhone, iPad, Android, or a Windows device. If you're offline, just carry on as usual. As soon as your device is online again, it will automatically submit your completed forms.
Rich Data: With pre-populated forms, collecting one answer can pull pre-existing data - like customer information or inventory data - into a form for quicker, more accurate data entry. Add time-stamps and GPS locations, embed and edit photos, take signatures, record audio, and much more. 
Excellent Integration: 

Right out of the box, our fillable forms app can integrate with 28 services, including DropBox and ShareFile. You can also go custom with our API, and be compatible with any other service.
Contact us today to get started with a free month-long trial!
THE LEADER IN MOBILE FORMS
Mobile app features made for efficiency
Create forms and dispatch for greater efficiency
Recreate forms for mobile with an intuitive form builder, and dispatch populated forms to workers in the field to avoid unnecessary trips to the office and repeated data entry.
Add photos, inside your forms
Take or insert photos and sketch on top of them to provide visuals of site activities and better report on field issues.
Work offline
No matter where you're working, fill forms with or without connectivity; they'll auto-send once the network is restored.
Capture signatures and barcodes
Collect authorization signatures on the device using the touch screen, and expedite data collection by scanning barcodes in the form to populate from a data list.
Add GPS and time stamps
Quickly confirm the location of job sites, customer visits, time of arrival, and work performed for visibility when auditing.
Connect the office to the field with two-way data flows
Maximize your productivity with pre-built dashboards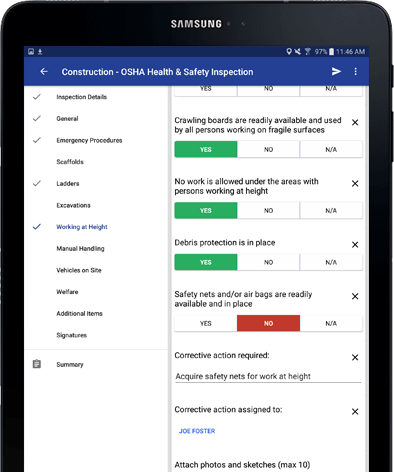 ProntoForms - A Mobile Forms App for Better Data, More Quickly