See it in action!
Request a demo and
start a trial today.
As a growing business, you're familiar with the hassle of paper forms. They are a constant drain of resources, effort, and time. But the jump to mobile forms can be daunting.
ProntoForms makes it easy. As the global leader for mobile forms, we let you create sophisticated mobile forms for iOS, Windows, and Android tablets.
Here are just a handful of the various features you can enjoy with ProntoForms:
Hundreds of Templates: ProntoForms offers over 220 effortlessly professional templates, making it easier than ever to create forms for tablets. Each of these forms are customizable, so we can fit your needs like a glove.

Create your Own: You also have the option of creating your own mobile forms for tablets. No coding or previous training is required! With our user-friendly form bulider, you can easily build one from scratch.
Field-to-Office Connection: ProntoForms lets you instantaneously issue forms from the office to the field, and vice-versa. You can also allow your field team to access office data from the field, including price lists and handbooks - no internet connection required.
Take Photos: Using our mobile forms app for tablets, you can easily add and edit photos. Other useful features include stamping your GPS location, recording times, and submitting sketches for full visibility in the field.
Contact us today for more information, or to request a free trial! 
THE LEADER IN MOBILE FORMS
Mobile app features made for efficiency
Create forms and dispatch for greater efficiency
Recreate forms for mobile with an intuitive form builder, and dispatch populated forms to workers in the field to avoid unnecessary trips to the office and repeated data entry.
Add photos, inside your forms
Take or insert photos and sketch on top of them to provide visuals of site activities and better report on field issues.
Work offline
No matter where you're working, fill forms with or without connectivity; they'll auto-send once the network is restored.
Capture signatures and barcodes
Collect authorization signatures on the device using the touch screen, and expedite data collection by scanning barcodes in the form to populate from a data list.
Add GPS and time stamps
Quickly confirm the location of job sites, customer visits, time of arrival, and work performed for visibility when auditing.
Connect the office to the field with two-way data flows
Maximize your productivity with pre-built dashboards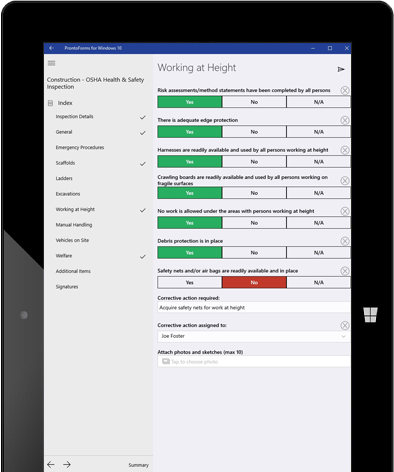 Choose ProntoForms, the Global Leader in Mobile Forms, to Create Mobile Forms for Tablets