See it in action!
Request a demo and
start a trial today.
Going mobile makes pest control jobs more efficient and more effective than ever. ProntoForms' mobile pest control forms are quick to build, easy to integrate with your business, and perfect for use in the field. 
You can select from an extensive library of pre-made, industry-specific forms, or customize your own to perfectly meet your specific needs. 
Here are just a few of the countless advantages to mobile pest control forms:
Maximize Efficiency: ProntoForms allows you to complete forms on a mobile device, then instantaneously send the forms directly to whoever needs them. They'll receive all the information they need, from photos to signatures to client billing information.
Work Offline: Using Mobile Pest Control forms, technicians and exterminators can fill forms from the field, even if they're offline. The forms will be automatically filed as soon as the technician goes back online.
Easy Access to Records: With ProntoForms, it's easier than ever to check what happened last time you were at a site, recall what response measures were taken, and look at past notes. 
ProntoForms' library of pest control form templates include Pest Control Service Orders, Bed Bug Home Inspections, General Inspections for Schools, and many more.
For more information, contact us today to request a demo and a free trial.
THE LEADER IN MOBILE FORMS
Mobile app features made for efficiency
Create forms and dispatch for greater efficiency
Recreate forms for mobile with an intuitive form builder, and dispatch populated forms to workers in the field to avoid unnecessary trips to the office and repeated data entry.
Add photos, inside your forms
Take or insert photos and sketch on top of them to provide visuals of site activities and better report on field issues.
Work offline
No matter where you're working, fill forms with or without connectivity; they'll auto-send once the network is restored.
Capture signatures and barcodes
Collect authorization signatures on the device using the touch screen, and expedite data collection by scanning barcodes in the form to populate from a data list.
Add GPS and time stamps
Quickly confirm the location of job sites, customer visits, time of arrival, and work performed for visibility when auditing.
Connect the office to the field with two-way data flows
Maximize your productivity with pre-built dashboards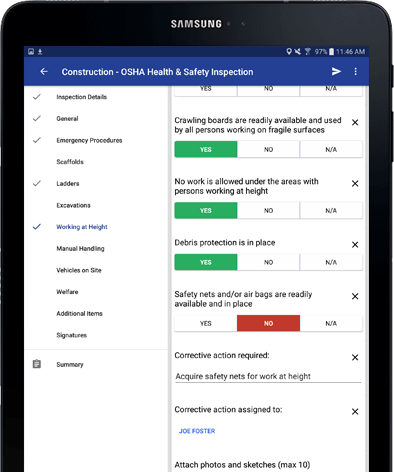 Mobile Pest Control Forms make Pest Control More Practical than Ever