Pest Control Service Tickets
See it in action!
Request a demo and
start a trial today.
Pest Control Service Tickets are a key part of any pest control business interaction. A clear, well-presented and detailed service ticket leaves a lasting impression with your client. In their eyes, the service ticket reflects the quality of service provided.
With ProntoForms, creating professional and informative Pest Control Service Tickets is easier than ever. 
Here are a few of the many reasons to choose ProntoForms:
Extensive Library of Customizable Templates: Choose from a wide variety of form templates created specifically for the Pest Control industry. These are easily customizable to perfectly integrate with your business.

Use Your Logo: Your service ticket should reflect your business - at ProntoForms, we understand this. So we offer an option to include your logo instead of ours.
Maximize Efficiency: Fill your Service Tickets on a mobile device, and instantaneously send it to the intended recipients, in whatever format you choose. They'll receive all the information they need, from photos to signatures to billing information.
ProntoForms offers many other pest control form templates, including Pest Control Service Orders, Bed Bug Home Inspections, and Wild Animal Removal Forms.
For more information, contact us today to request a demo and a free trial.
THE LEADER IN MOBILE FORMS
Mobile app features made for efficiency
Create forms and dispatch for greater efficiency
Recreate forms for mobile with an intuitive form builder, and dispatch populated forms to workers in the field to avoid unnecessary trips to the office and repeated data entry.
Add photos, inside your forms
Take or insert photos and sketch on top of them to provide visuals of site activities and better report on field issues.
Work offline
No matter where you're working, fill forms with or without connectivity; they'll auto-send once the network is restored.
Capture signatures and barcodes
Collect authorization signatures on the device using the touch screen, and expedite data collection by scanning barcodes in the form to populate from a data list.
Add GPS and time stamps
Quickly confirm the location of job sites, customer visits, time of arrival, and work performed for visibility when auditing.
Connect the office to the field with two-way data flows
Maximize your productivity with pre-built dashboards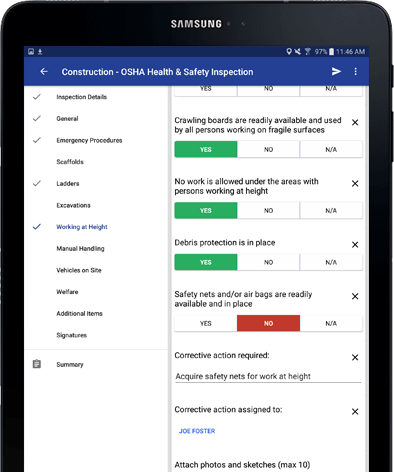 Create professional electronic Pest Control Service Tickets with ProntoForms