See it in action!
Request a demo and
start a trial today.
Pest control can be arduous work: paper-based businesses have to print forms, which in turn must be filled by inspectors or exterminators on the field. These hand-filled forms then have to be brought back to an office and interpreted by a staff member, before finally being entered into a database.
But it doesn't have to be this way. With ProntoForms' mobile solution for pest control, doing a good job is easeir than ever.
With ProntoForms, your business can go mobile. You'll have a vast library of ready-made, industry-specific forms at your fingertips, and can create or customize forms for your specific needs. These forms can be easily filled from mobile devices on the field, and instantaneously filed in a backend system and sent to customers or managers with just one tap.
Here are just a few of the countless advantages to choosing ProntoForms:
Maximize Efficiency: ProntoForms lets you complete work orders and invoices from the field using your mobile device, and instantaneously files the data to wherever you need it.
Easily Access Records: Easily search backend systems for service history forms from any site, verify what actions were taken there in the past, and pull up past invoices for audting or followup.
Gather Rich Data: From the field, you can collect data ranging from photos and signatures for site visibility, to workers' GPS location to verify site presence. 
Work Offline: Even if you're offline, Pronto Pest Control lets you fill forms from your mobile device. These forms will filed the moment you go back online.
ProntoForms' library of pest control form templates include Pest Control Service Agreements, Pest Control Service Orders, Pest Control Residential Checklists, General Inspections for Schools, and many more.
For more information, contact us today to request a demo and a free trial.
THE LEADER IN MOBILE FORMS
Mobile app features made for efficiency
Create forms and dispatch for greater efficiency
Recreate forms for mobile with an intuitive form builder, and dispatch populated forms to workers in the field to avoid unnecessary trips to the office and repeated data entry.
Add photos, inside your forms
Take or insert photos and sketch on top of them to provide visuals of site activities and better report on field issues.
Work offline
No matter where you're working, fill forms with or without connectivity; they'll auto-send once the network is restored.
Capture signatures and barcodes
Collect authorization signatures on the device using the touch screen, and expedite data collection by scanning barcodes in the form to populate from a data list.
Add GPS and time stamps
Quickly confirm the location of job sites, customer visits, time of arrival, and work performed for visibility when auditing.
Connect the office to the field with two-way data flows
Maximize your productivity with pre-built dashboards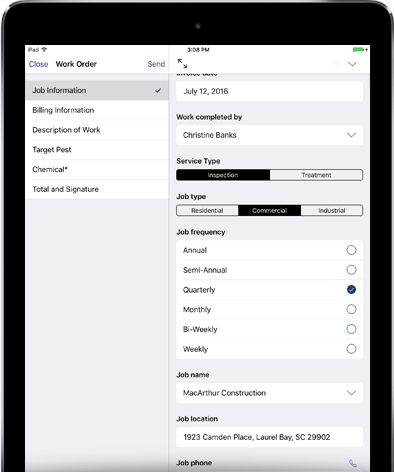 Go Mobile with Pronto Pest Control for Maximized Efficiency and Effectiveness