See it in action!
Request a demo and
start a trial today.
Many industries require businesses to perform annual inspections – from building and fire inspections, to vehicle, and HVAC system inspections. Someone has to fill out, sign, copy, and fax or mail a completed record of annual inspection forms along with multiple other forms and checklists. Doing this with stacks of paper is cumbersome, and you risk having forms lost, misplaced, damaged, or completed incorrectly.
ProntoForms does much more for inspectors than just make mobile versions of paper-based inspection forms – it makes it much easier to fill out each form, automates the storing & filing process, and eliminates unnecessary delays.
Benefits of doing inspections with ProntoForms include:
Real-time delivery and workflows: Automatically route inspection data to key recipients and back-office systems, in the form of PDFs, raw data, or custom inputs and documents
Data-rich inspections: Inspectors can easily capture and embed rich data such as pictures, sketches, GPS & time stamps, signatures, and even audio recordings directly into the inspection form
Track and measure compliance: Monitor progress against SLA's, standards and/or regulatory compliance with analytics dashboards and reports. Transform your inspection processes today.
Contact us to request a live demo and start your free trial.
THE LEADER IN MOBILE FORMS
Mobile app features made for efficiency
Create forms and dispatch for greater efficiency
Recreate forms for mobile with an intuitive form builder, and dispatch populated forms to workers in the field to avoid unnecessary trips to the office and repeated data entry.
Add photos, inside your forms
Take or insert photos and sketch on top of them to provide visuals of site activities and better report on field issues.
Work offline
No matter where you're working, fill forms with or without connectivity; they'll auto-send once the network is restored.
Capture signatures and barcodes
Collect authorization signatures on the device using the touch screen, and expedite data collection by scanning barcodes in the form to populate from a data list.
Add GPS and time stamps
Quickly confirm the location of job sites, customer visits, time of arrival, and work performed for visibility when auditing.
Connect the office to the field with two-way data flows
Maximize your productivity with pre-built dashboards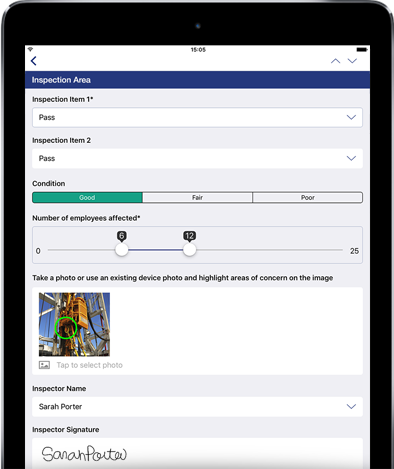 ProntoForms Empowers You to Mobilize Your Record of Annual Inspection Forms