See it in action!
Request a demo and
start a trial today.
When you're sending important form data information to email, you want to be sure you're sending and sharing the correct mobile forms data with the right people, to the right systems, at the right time.
Pronto Forms connects mobile form data to email using Data Destinations – controlling where data is sent when a form is submitted. Data is automatically routed to your chosen service in the format of your choice, making data sharing and data storage an automated process.
ProntoForms with Email Data Destinations enables you to:
Send automatic notifications to customers and staff
Access instant reporting and real-time visibility of field performance
Instantly email completed reports to office staff
Send invoices to a customer email address collected in a form
Notify a field service manager about critical issues in the field using automated and easily configurable SMS/Email capabilities
The best part? ProntoForms seamlessly connects to the systems and services you already use out-of-the-box. Two-way integration with a number of cloud services allows you to maintain all your data in the service of your choice.
Contact us to get connected to ProntoForms today.
Request a demo or start your free trial.
THE LEADER IN MOBILE FORMS
Mobile app features made for efficiency
Create forms and dispatch for greater efficiency
Recreate forms for mobile with an intuitive form builder, and dispatch populated forms to workers in the field to avoid unnecessary trips to the office and repeated data entry.
Add photos, inside your forms
Take or insert photos and sketch on top of them to provide visuals of site activities and better report on field issues.
Work offline
No matter where you're working, fill forms with or without connectivity; they'll auto-send once the network is restored.
Capture signatures and barcodes
Collect authorization signatures on the device using the touch screen, and expedite data collection by scanning barcodes in the form to populate from a data list.
Add GPS and time stamps
Quickly confirm the location of job sites, customer visits, time of arrival, and work performed for visibility when auditing.
Connect the office to the field with two-way data flows
Maximize your productivity with pre-built dashboards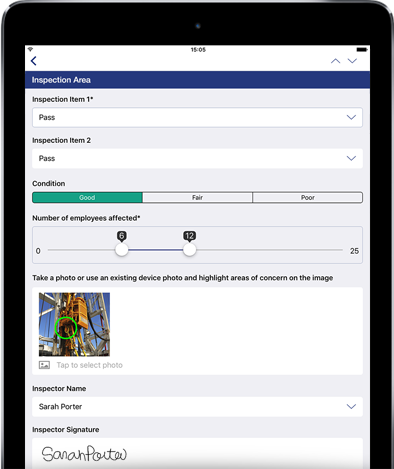 Send Form Data to Email? Do it Securely with ProntoForms