See it in action!
Request a demo and
start a trial today.
Work orders are used in every industry – from technicians and service managers to quality control and health & safety officers. Whether you require just a simple work order format or a more complex multi-page form, managing stacks of cumbersome paper forms is tedious and time consuming. Isn't it time you started to use work orders, invoices, checklists, and time-sheets on mobile devices?
ProntoForms is the world leader in automating mobile workflows. Our powerful platform lets you streamline operations and transform your paper forms to digital mobile versions. This allows you to improve the speed and quality of work, eliminate repeat visits, save hours spent on data entry, and reduce costs. ProntoForms benefits include:
Dispatch and route job information – Pre-fill work order forms with customer name, job, location, and part data and save time for your workers in the field; route completed work orders directly to back-office systems for immediate processing
Add rich media to work orders – Embed photos & sketches, GPS/time stamps, signatures, and more directly into forms
Track and measure field performance – Monitor the efficiency of remote workers and track maintenance trends with automated reports & customized dashboards
Ready to transform your work orders with ProntoForms? Want to see a demo and start a trial? Contact us today to get started.
THE LEADER IN MOBILE FORMS
Mobile app features made for efficiency
Create forms and dispatch for greater efficiency
Recreate forms for mobile with an intuitive form builder, and dispatch populated forms to workers in the field to avoid unnecessary trips to the office and repeated data entry.
Add photos, inside your forms
Take or insert photos and sketch on top of them to provide visuals of site activities and better report on field issues.
Work offline
No matter where you're working, fill forms with or without connectivity; they'll auto-send once the network is restored.
Capture signatures and barcodes
Collect authorization signatures on the device using the touch screen, and expedite data collection by scanning barcodes in the form to populate from a data list.
Add GPS and time stamps
Quickly confirm the location of job sites, customer visits, time of arrival, and work performed for visibility when auditing.
Connect the office to the field with two-way data flows
Maximize your productivity with pre-built dashboards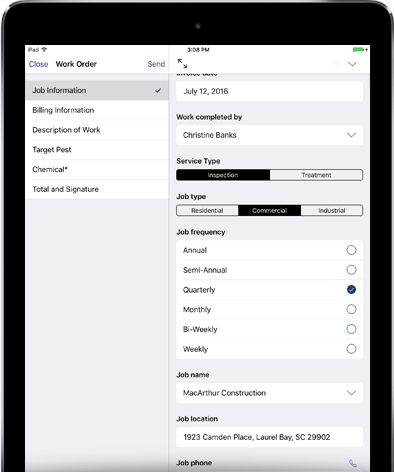 Make a Simple Work Order Format Better – With ProntoForms