See it in action!
Request a demo and
start a trial today.
Your business. Your app.
With ProntoForms' White Label option, create a mobile data collection app all your own in just seven days. 
Within a week, you'll have your app in mobile app stores. You'll have true ownership of your own app, without the cost and burden of in-house development.
Here are a few of the many benefits of choosing White Label:
360o Branding: With White Label, you'll have a custom icon in the app store, your logo featured on the app's home screen, and your colors in every form.
Control: Ownership means control. You'll have the option of providing your own in-house support team, and can take full control of testing procedures and publishing schedules for app updates.
Power: Harness best-in-class UX and performance with native app controls already established by Apple, Google, and Microsoft for seamless adoption. 
Convenience: Your app will be compatible with the latest mobile platform upgrades. We'll keep your app up to date with the latest mobile OS features and device evolutions, as well as manage app store submissions and provide reliability and security.
For more information, contact us today!
THE LEADER IN MOBILE FORMS
Mobile app features made for efficiency
Create forms and dispatch for greater efficiency
Recreate forms for mobile with an intuitive form builder, and dispatch populated forms to workers in the field to avoid unnecessary trips to the office and repeated data entry.
Add photos, inside your forms
Take or insert photos and sketch on top of them to provide visuals of site activities and better report on field issues.
Work offline
No matter where you're working, fill forms with or without connectivity; they'll auto-send once the network is restored.
Capture signatures and barcodes
Collect authorization signatures on the device using the touch screen, and expedite data collection by scanning barcodes in the form to populate from a data list.
Add GPS and time stamps
Quickly confirm the location of job sites, customer visits, time of arrival, and work performed for visibility when auditing.
Connect the office to the field with two-way data flows
Maximize your productivity with pre-built dashboards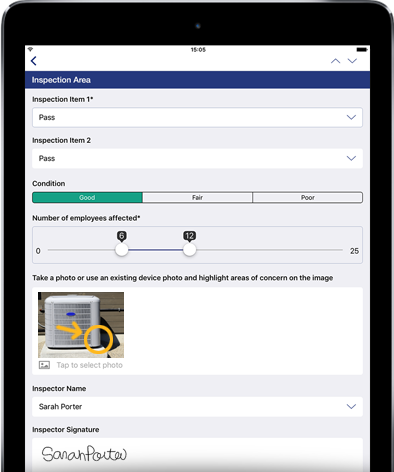 With ProntoForms' White Label, Create a Mobile Data Collection App of your Own!