See it in action!
Request a demo and
start a trial today.
Paper forms are expensive and time consuming. That's why more and more businesses are going digital and choosing ProntoForms, the global mobile forms leader.
With ProntoForms, you can capture better data, and capture it quickly. It will save you hours of administrative work each week, and your records will be more organized than ever - meaning your jobsites will be more productive and compliant.
Here are a few techniques for collecting data using ProntoForms:
Go Mobile: Fill forms anywhere, using your mobile device. No internet connectivity in the field? No problem! Just fill and submit the form as usual, and it will update as soon as you're back online.
Intuitive Layout: ProntoForms has streamlined its user interface to maximize ease of use. Familiar features such as drop-down menus make it user friendly for anyone, and device-native controls minimize training time required. 
Harness Technology: Opting for digital forms opens the door to a new frontier in data gathering. Easily include and edit photos, insert GPS and time stamps, scan barcodes, take signatures, or access past data within the form for richer data.
Analytics: With ProntoForms' analytics integration, analyze your current and legacy data. This presents many opportunities, from tracking productivity and customer satisfaction to unearthing core problems behind present and potential issues.
For more information, contact us today to request a demo and a free trial.
THE LEADER IN MOBILE FORMS
Mobile app features made for efficiency
Create forms and dispatch for greater efficiency
Recreate forms for mobile with an intuitive form builder, and dispatch populated forms to workers in the field to avoid unnecessary trips to the office and repeated data entry.
Add photos, inside your forms
Take or insert photos and sketch on top of them to provide visuals of site activities and better report on field issues.
Work offline
No matter where you're working, fill forms with or without connectivity; they'll auto-send once the network is restored.
Capture signatures and barcodes
Collect authorization signatures on the device using the touch screen, and expedite data collection by scanning barcodes in the form to populate from a data list.
Add GPS and time stamps
Quickly confirm the location of job sites, customer visits, time of arrival, and work performed for visibility when auditing.
Connect the office to the field with two-way data flows
Maximize your productivity with pre-built dashboards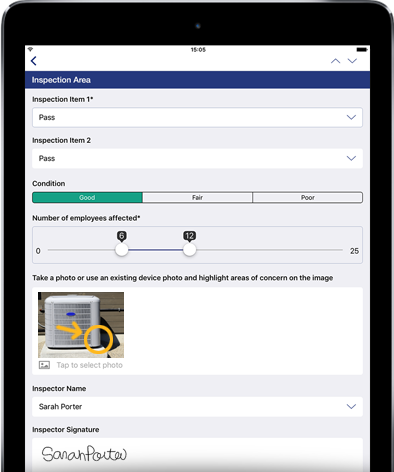 Capture Rich Data Quickly with ProntoForms!