See it in action!
Request a demo and
start a trial today.
As a business owner, you have to balance costs and efficiency - but you shouldn't have to choose.
As a leader in automated mobile workflows, ProntoForms has the solution your business needs. By simply making the shift from paper to wireless forms, workers in the field are able to digitally collect and analyze data in real time with mobile devices, and automatically share their findings with back-office systems, cloud services, and colleagues. 
Our wireless forms are intuitive, offering the familiarity of paper forms with none of the waste and an incredible number of advantages, including:
Reports and Analytics: See where your strengths and weaknesses are with data breakdowns for everything from work hours to training levels and safety checklists.
Rich Media: Wireless digital forms allow for the easy inclusion of audio clips, photo attachment and editing, use of barcodes, digital signatures. GPS and time stamps are automatically recorded for increased worker visibility and accountability.
Customization: Get started with our online selection of hundreds of customizable form templates, and incorporate your company logo and colours in the app, on your documents, and in the online portal. 
Take your business wireless today: contact ProntoForms for a demo and free trial now!
THE LEADER IN MOBILE FORMS
Mobile app features made for efficiency
Create forms and dispatch for greater efficiency
Recreate forms for mobile with an intuitive form builder, and dispatch populated forms to workers in the field to avoid unnecessary trips to the office and repeated data entry.
Add photos, inside your forms
Take or insert photos and sketch on top of them to provide visuals of site activities and better report on field issues.
Work offline
No matter where you're working, fill forms with or without connectivity; they'll auto-send once the network is restored.
Capture signatures and barcodes
Collect authorization signatures on the device using the touch screen, and expedite data collection by scanning barcodes in the form to populate from a data list.
Add GPS and time stamps
Quickly confirm the location of job sites, customer visits, time of arrival, and work performed for visibility when auditing.
Connect the office to the field with two-way data flows
Maximize your productivity with pre-built dashboards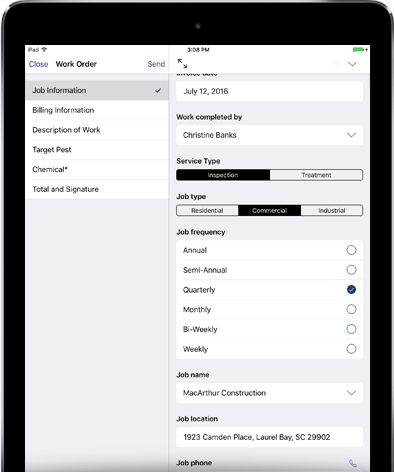 Streamline Data Collection with Wireless Forms from ProntoForms