See it in action!
Request a demo and
start a trial today.
Most electricians, HVAC technicians, plumbers, and contractors perform up to 6 calls a day. They often have to bring a stack of work order templates everywhere they go – paper forms that are prone to damage, being misplaced or lost, incorrectly filled out, or submitted late. Isn't it time to make the switch to mobile forms?
The ProntoForms platform enables you to streamline business processes and automate workflows by letting users easily collect field data on mobile devices and submit completed forms to back-office systems – in real time. ProntoForms features include:
Receive dispatched forms, collect work data in the field, and submit data back to the office in real-time on a mobile device
Capture rich media like text, photos, sketches, signatures, barcodes, and even audio recordings directly in the form
Collect credit card payments on your mobile device
Sketch on top of images to quickly highlight problem areas
Easily add GPS location and time stamps to forms, creating an easy-to-follow data trail for auditing purposes
Automatically populate look-up tables with up-to-date information for customer lists, inventory, schedules, part numbers, pricing, etc
The award-winning ProntoForms mobile solution can help you transform your work orders, time-sheets, invoices, and more.
Contact us today to start a free trial!
THE LEADER IN MOBILE FORMS
Mobile app features made for efficiency
Create forms and dispatch for greater efficiency
Recreate forms for mobile with an intuitive form builder, and dispatch populated forms to workers in the field to avoid unnecessary trips to the office and repeated data entry.
Add photos, inside your forms
Take or insert photos and sketch on top of them to provide visuals of site activities and better report on field issues.
Work offline
No matter where you're working, fill forms with or without connectivity; they'll auto-send once the network is restored.
Capture signatures and barcodes
Collect authorization signatures on the device using the touch screen, and expedite data collection by scanning barcodes in the form to populate from a data list.
Add GPS and time stamps
Quickly confirm the location of job sites, customer visits, time of arrival, and work performed for visibility when auditing.
Connect the office to the field with two-way data flows
Maximize your productivity with pre-built dashboards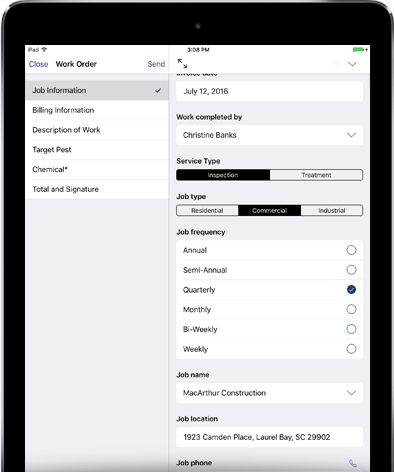 Make Your Work Order Templates Completely Mobile With ProntoForms