See it in action!
Request a demo and
start a trial today.
Your organization relies heavily on paper documentation for business processes so making the switch to a mobile workflow may seem overwhelming. You need to improve productivity, eliminate redundant data entry tasks, minimize errors, and most importantly, make it easier for your employees to complete their work.
Your form builder needs to support multiple formats (PDF, Excel, Word, HTML or XML) and be able to create great looking mobile forms quickly. Meet ProntoForms, the global leader in automating mobile workflows. ProntoForms makes building custom forms easy and intuitive, and remote workers can submit forms from any smartphone or tablet. ProntoForms features and benefits include:
Dispatching – Smart and timely task assignment; automatically dispatch the most current mobile forms to field workers; send submitted data and reports to stakeholders for further review, editing, approval, and/or action
Systems Integration – Enhance field and office collaboration with two-way, real-time data sharing; flexible REST APIs; pre-configured cloud service connections; and seamless integration with virtually any business or analytics system
Outputs & Notifications – Data delivery, when and where it's needed; trigger email or SMS notifications when immediate action is needed; and export data in any format, including XML, PDF, Excel, Word, and HTML Get an edge over your competition.
Contact us to learn how ProntoForms can accelerate your business with mobile workflow automation. Request a demo and get started on your free trial today.
THE LEADER IN MOBILE FORMS
Mobile app features made for efficiency
Create forms and dispatch for greater efficiency
Recreate forms for mobile with an intuitive form builder, and dispatch populated forms to workers in the field to avoid unnecessary trips to the office and repeated data entry.
Add photos, inside your forms
Take or insert photos and sketch on top of them to provide visuals of site activities and better report on field issues.
Work offline
No matter where you're working, fill forms with or without connectivity; they'll auto-send once the network is restored.
Capture signatures and barcodes
Collect authorization signatures on the device using the touch screen, and expedite data collection by scanning barcodes in the form to populate from a data list.
Add GPS and time stamps
Quickly confirm the location of job sites, customer visits, time of arrival, and work performed for visibility when auditing.
Connect the office to the field with two-way data flows
Maximize your productivity with pre-built dashboards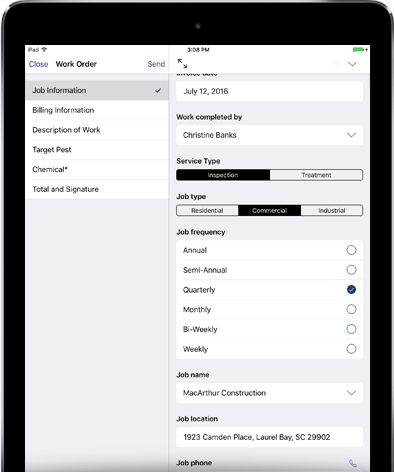 ProntoForms has the Best XML Form Builder for Mobile Workflows